What Is The Number One Tatting Question
The number one question asked by Tatters?
Do you know the answer?
They are looking for patterns beyond the traditional doily and edgings.
Thanks to Globalization we American's now have access to pattern inspiration from all over the world.
The Art of Tatting, that's based on one easy to do stitch. When you master that stitch, you will have mastered the art. Manipulating that one stitch takes a bit more practice however!
Take care to follow closely the directions for dropping the fingers and stretching the thread and–in a short amount of time, you'll be creating with ease laces of beauty.
Delicate tatting has an air of elegance! From lovely edgings and other home furnishing pieces, to heirloom wearable that add sophistication to any outfit.
Do you Tat with a shuttle & hook or do you use a tatting needle? did you know that you can Tat without a shuttle?
I've tried both methods and the difference is like crocheting with yarn or fine thread, needle tatting and shuttle tatting are different.
But the finished project delivers the same results–my preference is needle tatting, Two totally different technique achieving the same results.
Remember there are challenges with both, there are special "needles" for needle tatting. The size of needle you use depends on the size of the thread you are using just as in crochet or knitting.
Use the diameter of needle that is as close to the thickness of the thread you are using.
So that when you make the stitches on the needle and then push them off the needle onto the thread, the stitches are not loose at all – they are the right size for the diameter of the thread.
I know people who have tried with poor results, do not use a regular sewing needle to tat – it must be a special "tatting needle".
The eye of the needle is no bigger than the shaft of the needle, so that you can slide the stitches over it and onto the base thread.
Here's an example of Needle Tatting
You can find the instructions here: http://www.georgiaseitz.com/2007/stricklandbracelet.html
Now here's the same bracelet using Shuttle Tatting method
Absolute Beginner Tatting Series can be found here: https://www.youtube.com/channel/UCG3Q9fgajBVXykAf1u0SkyQ
The instructions are here:
http://www.georgiaseitz.com/2007/stricklandshtlbrac.html
One other note,  while the stitches are the same the instruction between the two may read differently as shown in the examples above, experienced tatters can usually use either.
Here are some excellent instructional and Free pattern websites.
Allison's Tatted Lace is a great little site with resources and free patterns.
Be-Stitched is another website you might find useful.
The Instructables Website has downloadable tutorials you might find useful.
Here's a link to a 13 page PDF of Tatting Books to help build your Tatting library.
Priscilla Tatting Book – PDF – there are three in the Priscilla series.
Here's a few example of Tatted wearable's:
Here's tatted slipper examples and can be found here: http://etsylove.ning.com/profiles/blogs/tatted-slippers-prototype
What do you think about this tatted insert?
Here's a pattern for Vintage Tatted Gloves pattern.
Here is an example of a tatted blouse.
This tatted piece is on sale on ETSY you can find it here: https://www.etsy.com/listing/105961892/scarlet-red-silk-summer-suit-jacket-with
Here's another beautiful example:
Here's a tatted cardigan made using thicker thread–well done. you don't have to use finer weight threads when designing wearables.
Do you like this tatted hats. slippers?
What about this tatted jewelry Box?
Here's another tatted piece using a heavier weight of yarn instead of thread.
Here's an example of free-form tatting using the similar joining techniques used in Irish Crochet.
When think about tatted clothes you are limited only by your imagination, look at this piece, tatted motifs, joining stitched and edging.
Here's an accent to trim an existing outfit–I really like this idea.
Free Vintage Tatting Patterns
Here's a few Free vintage tatting patterns that I'd like to share to get you started.
Free Vintage Richardson's Tatting Book Number 7
Tatting a Fascinating Book of Delicate Designs | 207 Spool Cotton 1944 Vintage Tatting Pattern Book
 Digital PDF eBook Patterns on Sale in my ETSY store ready for instant download:
Vintage Tatting Patterns Motifs Insertions | Luncheon Refreshment Sets Mats Tatted Jewelry Set | Towel Linen Delicate Collars Cuffs Edges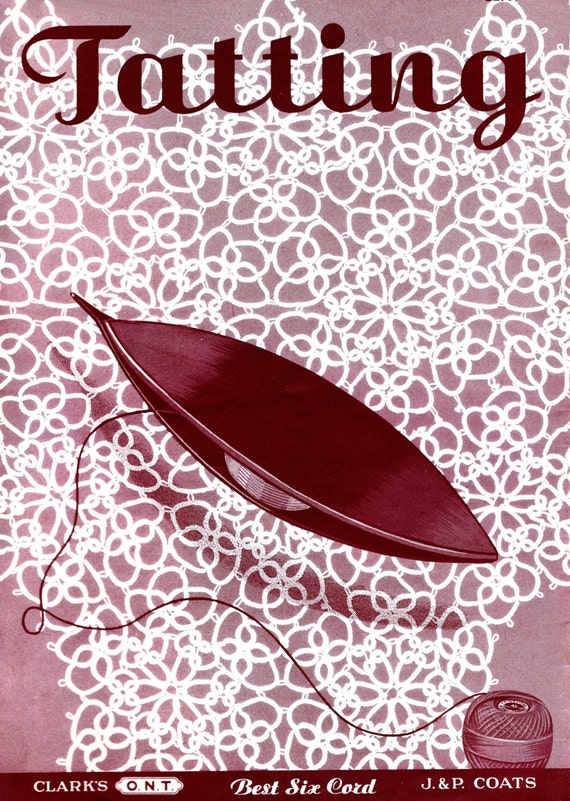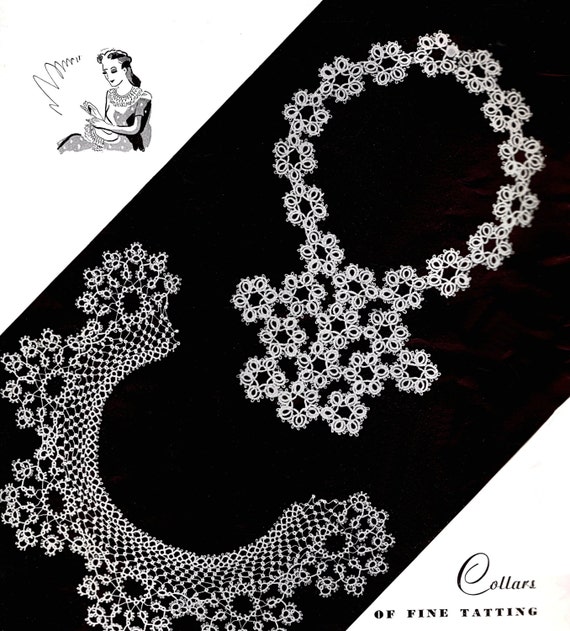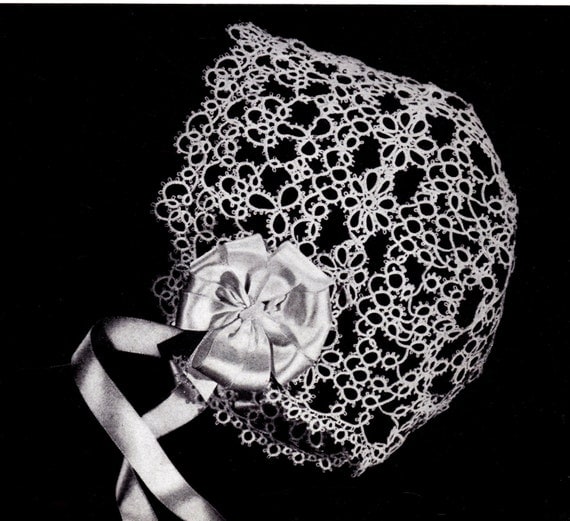 Vintage Tatting Patterns Edges Collars Cuffs Chair Sets Medallions Insertions New Things Happen to Tatting | Spool Cotton Company Book 159